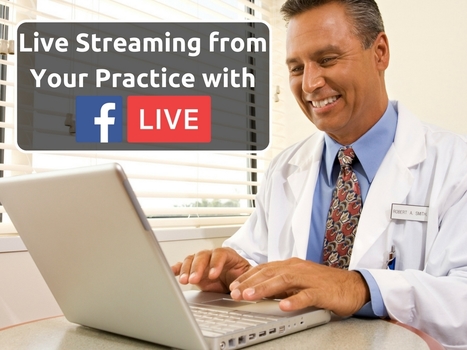 Do you want your practice to have its own little broadcasting option? Maybe a patient wants to give a live testimonial before they leave the office, rather than coming back at some later time. Maybe you want to show off a new piece of equipment. Maybe you have a new reception area.
Now, thanks to a new feature from Facebook, you can take video and stream it live on your page. It's called Facebook Live. Just think of it — you and your practice could be a star…live!
This feature, like everything Facebook does, wasn't just thrown out there. It was first tested on a bunch of celebrities and some regular users. Since you weren't likely one of those test monkeys, this could be the first you're hearing about it. Here's how you do it.
How to stream live
First, of course, you'll need a phone that can access your practice Facebook page from where you can post as the page administrator. It's best to be within wi-fi range, too, to save your data.
There's not a big, bold button that's says "Put Me On Camera" or anything. Everything looks the same, except for one icon you may not have even noticed. You just have to know where to find it.
All you do is click either on your Status icon or What's On Your Mind. You'll be taken directly to your posting screen and you may or may not notice a new icon next to the Check In pointer icon in the bar above your keyboard. If you haven't posted a status update in awhile, this new icon will have a blue message bubble floating above it touting the new option: "New! Record and share live video." There it is — see the person with half circles surrounding them? That's the Facebook Live icon.